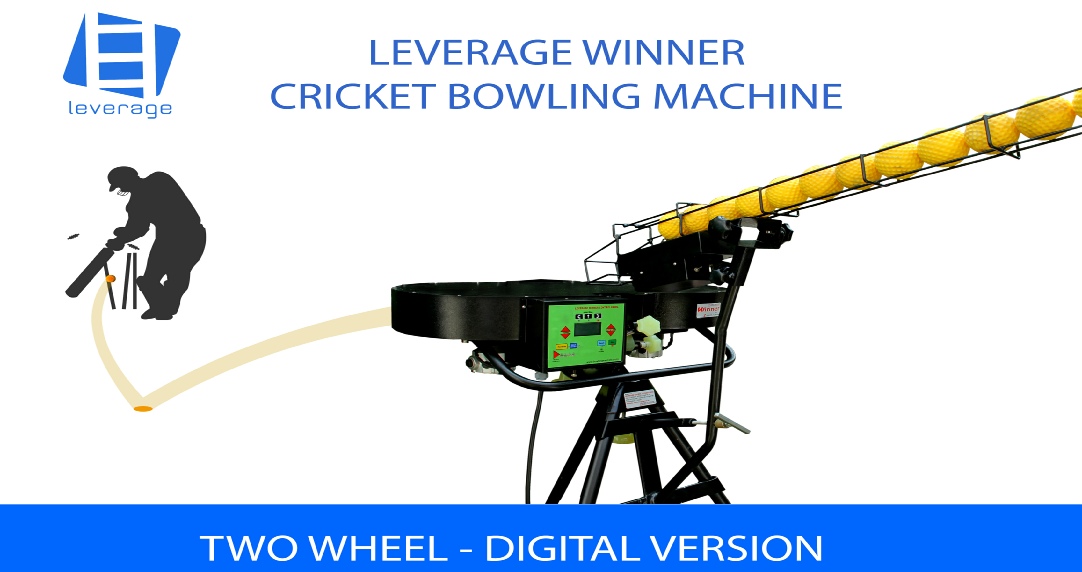 FEATURES
Advanced Touch Pad Operations
Speed Selection (60 kmph-170 kmph)
- Digital Speed selection with 1km
Increase in speed for every press.
Swing Selection:-
- Both In-swing & Out-swing
Spin Selection:-
- Both Leg Spin & Off Spin
Random Mode :-
- 31 variations at a particular speed
Match Practice:-
31 Match Practice Variations at
Different speed ranges
Match Situation:-
Creates Real Match Scenario
READY DISPLAY
BALL COUNTER & many more
Select Desired Speed
A player or a coach can select his desired speed of delivery and practice according to it. Leverage Winner
Control panel is equipped with Speed Selection display. Desired speed can be set between 60 kmph and 170 kmph with increase of 1 kmph for every press
Select Desired Swing/Spin
A player or a coach can select his desired swing/spin from the digital control panel. At speeds more than 85 kmph ais programmed for in-swing and out-swing and for speeds less than 85 kmph is programmed for off-spin and leg-spin deliveries.
Swing Level selection is unique feature in Leverage bowling machines, where a coach can increase or decrease the level of swing in air up to 15 levels. Thus creating 31 variations at a particular speed.
Using swing level option one can create a little to banana swing in air and replicate any swing bowlers of international standards.
Select Desired Swing Level
READY display, Ball Counter, Reset
Ball Counter feature is displays the number of balls played in a particular session
Reset Button to return to default mode from any session
In one particular speed 31 types of variations can be bowled using Random Mode. At same speed, random variations of straight, in-swing & out-swing will be delivered without the knowledge of the batsman. Time frequency of the change in delivery can be adjusted from 5 to 99 seconds
Random Mode is designed to sharpen reflexes and develop hand eye coordination of a batsman and improves his focus and gets better approach about watching the ball till the last second and playing the right shot. Using Random Mode a a batsman can face different parameters of swing, deviation, line and length at same speed. It is a great way of practice for a batsman to raise to the next level.
Match Situation in Winner Bowling Machine, creates real match feel for a batsman by delivering a variety of bowling types varying speed, swing, deviation, line and length
Match Situation feature creates most challenging practice session, where a batsman will be tested against different bowling variations a bowler bowls in match to deceive a batsman..
It is more effective way for a batsman to practice and prepare for every challenging situation he faces in a match.
Using Match Practice one can practice against 31 different variations in a particular speed range.
80-100 100-115 115-130 130 -145 kmph
A coach or batsman can select his desired speed range and practice against different bowling variations.
Match Practice is effective intelligent feture which helps a batsman to understand his level of play in a particular speed range. He will analyse his weakness and try to develop his batting against those particular ball types.
Moreover a batsman can also use this feature depending upon the kind of bowlers he is going to face in the next match



Model/Features

Winner 2.0

Winner 2.1

Winner Pro

Winner Ultra

Mechanical Features

Seam Grip Wheels

No. Only Synthetic balls

Yes. Can grip leather cricket balls & PU balls




Yes. Can grip leather cricket balls & PU balls







Yes. Can grip leather cricket balls & PU balls




Weight

25 kgs




25 kgs







25 kgs







25 kgs




Side Tilt Feature

Yes

Yes

Yes

Yes

Digital Features

Speed

60 to 150 kmph

60 to 170 kmph

60 to 170 kmph

60 to 170 kmph

Swing

In-Swing & Out-Swing

In-Swing & Out-Swing




In-Swing & Out-Swing




In-Swing & Out-Swing




Spin

Off Spin & Leg Spin

Off Spin & Leg Spin

Off Spin & Leg Spin

Off Spin & Leg Spin

Variations

11 variations at a particular speed

11 variations at a particular speed

21 variations at a particular speed

31 variations at a particular speed

Intelligent Features

Random Mode

No

No

Yes

Yes

Match Practice

No

No

No

Yes

Match Situation

No

No

No

Yes

Cost Details

Unit Price (Rs)

130000

149000

180000

225000

Tax @ 5%

6500

7450

9000

11250

Packing

5000

Free

Free

Free

Total (in INR)

141500

156450

189000

236250

Transport

As applicable

As applicable

As applicable

As applicable

Optional Features

Automatic Feeder

Rs.18000 plus tax

Rs.18000 plus tax

Rs.18000 plus tax

Rs.18000 plus tax

PU Dimpled Balls

4800, 7200, 9600 per dozen (different models)




4800, 7200, 9600 per dozen (different models)







4800, 7200, 9600 per dozen (different models)







4800, 7200, 9600 per dozen (different models)




Battery Compatibility

Optional

Optional

Optional

Optional