It started as an experiment in the year 2007. Like most of the parents, one of the founders of Leverage Science and Technologies, Partha Pemmaraju was worried that his six years old son might get addicted to computer games. He wanted his son to play and enjoy a sport. So, he searched for a gadget/toy, with which his son might be able to play and get physical exercise. Barring bicycle, he could not find any such toy. That's when Partha Pemmaraju got the idea of making a ball projecting toy.


Partha Pemmaraju, a long term sufferer of Obsessive Compulsive Research and Development Disorder, who has a history of developing different products in different fields, could not resist the urge of developing THE toy. He shared his idea with Kishore Gutala, another founder of the company, who was equally excited with the idea.



It took eight months to complete the working prototype of the toy. That so-called toy was throwing the Leather Cricket Balls, and Tennis balls at varying speeds up to 220kph, Spin and Swing deliveries bowled by the product were a treat to watch.

Leverage Bowling Machine Prototype
A couple of friends who played club cricket tested the prototype and gave positive feedback. In a few weeks, Partha and team have received enquiries from a few more coaches and players who came to know about the product. The idea never was to make it commercial. But the response was compelling.
Around that time, a member of the Cricket Team India and one of the Cricket legends Rahul Dravid came to Hyderabad to inaugurate a Cricket Academy. Knowing about the product, the owner of that academy generously allowed Partha and Kishore to demonstrate the working prototype to Rahul Dravid. After seeing and understanding it, Dravid wanted to try the machine.
He wanted to face only a few deliveries. But that trial went on for a good two hours.

After that session, "This is the best Cricket Bowling Machine I have ever practised with." Said Rahul Dravid. He liked the machine so much so to recommend it to BCCI's National Cricket Academy of India and other Cricketers, especially to the legendary Sachin Tendulkar.



Rahul Dravid's First Interaction with Leverage Bowling Machine.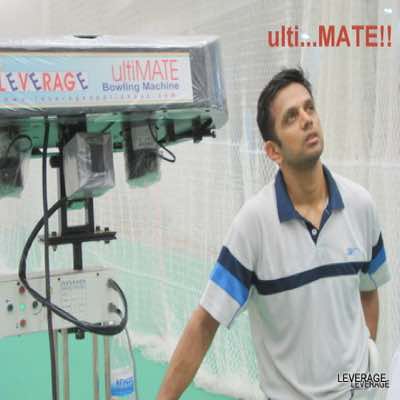 Rahul Dravid with Leverage Bowling Machine after his practice session.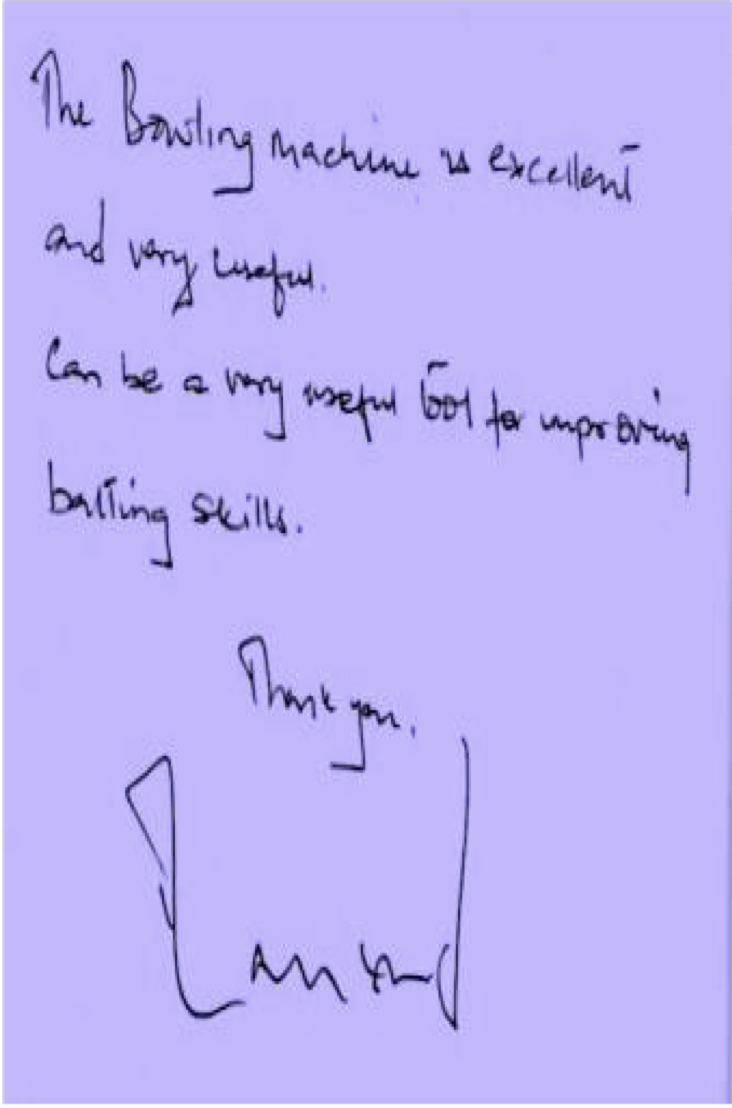 Testimonial from Rahul Dravid
National Cricket Academy extensively tested the Leverage Cricket Bowling Machines for one year, only then they have purchased the machines.




National Cricket Academy - 2008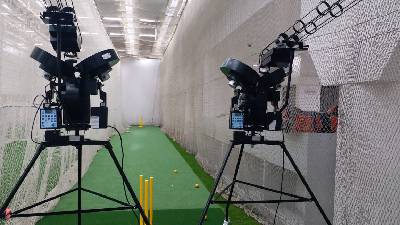 National Cricket Academy - 2020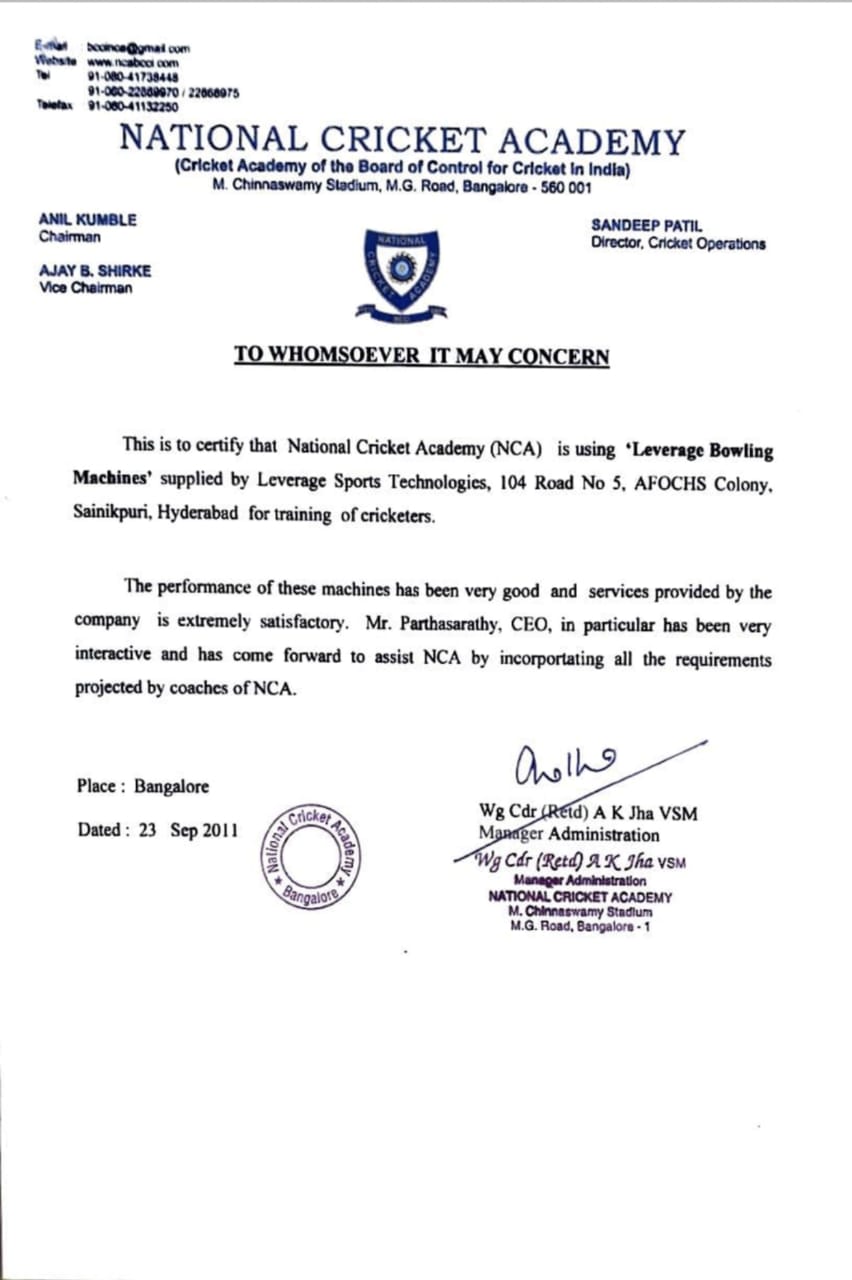 Testimonial from National Cricket Academy
"I want this machine. I want it to be installed in my new house." said the Master Blaster Sachin Tendulkar to Partha Pemmaraju, after the Team-India's net practice session with the Leverage bowling machines.
Following the completion of his new house, Two Leverage Machines were installed in the backyard of his home.
Leverage Bowling Machines in Sachin Tendulkar's House.
Testimonial from Sachin Tendulkar
For us, at Leverage Science and Technologies Ltd., selling Bowling Machines is not a business. By selling the machines, we are taking a part of the player's passion, being an understanding partner, challenging as a tough opponent, bringing out the best in him.
A few years ago, Cricket Bowling Machine was an expensive product to buy. Only a fortunate few rich cricketers could buy bowling machines. Ninety-nine per cent of the cricketers were unable to obtain this essential practice tool. Our mission statement was to make Cricket Bowling Machine affordable to all, without compromising on the quality and features.
We proudly claim that we have achieved the goal. Cricket Bowling Machine is now affordable to most of the cricket aspirants. Bowling Machine is now available at a lesser cost than a branded cricket bat.
This is the story of a parent and his enthusiastic experiment, which became a stepping stone for a successful company. This is the story of a practice tool which changed the lives of thousands of cricketers for better.